The Doctor
Dr. Devin Weatherley, D.C.
Doctor of Chiropractic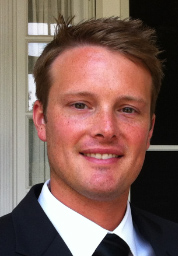 My name is Dr. Devin Weatherley.  I grew up in Baltimore, Maryland where I first became interested in chiropractic at the age of 12 when I fractured my lumbar vertebra in my low back playing lacrosse.  I began seeing my family's chiropractor and was amazed at how much better I felt with each visit.  It intrigued me that someone could heal my pain with their hands, when the conventional medicine could do nothing more than prescribe pain medication.  It was from that point on that I knew chiropractic was going to be an integral part of my life.  I continued getting chiropractic care throughout high school and college, which allowed me to play lacrosse at the Division I level on The Ohio State University's top ranked team.  While on a trip to Bordeaux, France after my freshman year, I fell in love with wine and began studying winemaking and vineyard management.  I spent the following 9 years studying wine and holding positions as a cellar master, cellar worker, assistant winemaker, and vineyard manager.  But making wine and an active outdoor life had taken its toll on my body while working in Sonoma County.  While trying to find a chiropractor that could help me regain my health and wellness, it was difficult finding one with the perspective on treatment and patient care that I wanted in the Santa Rosa area. I saw a need.  So in 2010 I left the wine industry to pursue my new vocation and began working towards my doctorate in chiropractic at one of the top schools, Parker University, College of Chiropractic in Dallas, Texas.  After four and a half long years, I earned the title of Doctor of Chiropractic and moved back to Sonoma County.  I love Santa Rosa and the Sonoma County area and wouldn't want to live anywhere else!
I am very passionate and caring for my patient's health and wellness.  I have had many health issues in my past that I have overcome that have enabled me to truly empathize with my patients, young and old.  I utilize several different chiropractic techniques in my approach to patient care and treatment, although caring service is my first technique.  I primarily perform Activator Technique, which utilizes low force adjusting with a hand held adjusting instrument.  This technique doesn't require twisting and popping, while delivering very specific, effective and long lasting adjustments.  I also perform Thompson Technique which utilizes a drop table to deliver a deep adjustment without all the wrenching of your low back and pelvis.  I love to integrate soft tissue mobility and myofascial release to address trigger points, muscle spasms, fasciitis, and muscle tension, while also breaking down fibrous adhesions that can develop in the muscles and fascia by using specialized tools.  My philosophy is to first address joint mobility, then joint stability, and finally muscle strengthening.  Additionally, I incorporate patient nutrition and ergonomics to fully round out my care. 
I like to think outside the box when approaching patient care and treatment, addressing bloodwork, ergonomics, nutrition and mental health.  I consider it an honor to take control of my patient's care and don't take any concern or issue lightly.  I have a special passion for treating athletes with a focus on mixed martial arts, golf, tennis, cycling and lacrosse injuries, but almost all sports injuries of any type translate across the board as long as the mechanism of injury is understood.  My care is not limited to athletes, in that I additionally have diverse experience in treating children (young and old), the elderly and everything in between.  From a visceral standpoint, gastroenterological problems hold a special place in my focus and have been something that I have studied and researched intensely to come up with creative ways to combat and fix. 
On a personal level, I have a twin brother that I am very close with, but we are fraternal twins and don't look very much alike.  Wine still is a huge passion of mine and I am planning on starting my own winery with my brother down the road.  I can also always be found in the kitchen whipping up something unique that I concocted in my head.  I love to travel and experience new places, cultures and adventures, celebrating all this amazing world has to offer.  In my free time I can be found playing tennis, mountain biking, skiing, fishing, rock climbing, hiking or anything outdoors.  I am a Buckeye at heart and rarely miss an Ohio State football game.